---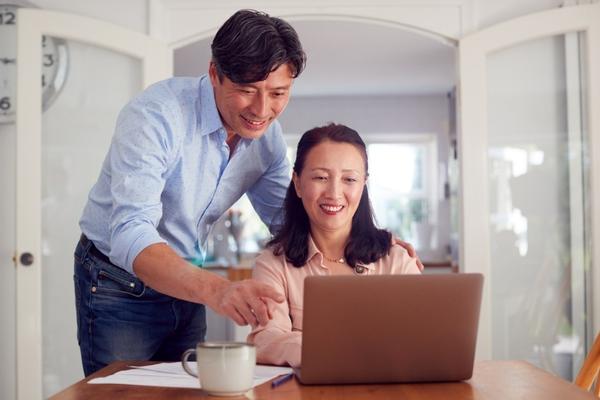 Have you updated your portfolio recently? Stocks are up, way up, especially in a handful of large, high-growth companies. But will they continue to outperform historical averages, or is this a bubble that's ready to pop? The fact is no one can say for sure. However, experienced investors know that stock returns historically go through cycles of stronger and weaker performance, and when the tide will change is anybody's guess.
Revisit your plan
Before considering changes to your investments, we first want to make sure your long-term financial planning is still on target. Major life events like marriage, divorce, the birth of a child, or a new job can have a huge impact on both your finances and your goals. As such, significant adjustments to your financial plan may be needed.
But minor life events and evolving priorities can lead to the need for adjustments as well. In fact, your financial situation is constantly changing simply with the passage of time. Investments hopefully increase, loan balances go down, children grow up, and you move closer to financial independence.
As a result, your appetite for risk may change as well. When you're young, you have years ahead of you for growth in up and down markets. But if you need your portfolio to cover living expenses or a major purchase in the coming years, it's time to rethink your mix of investments. An updated plan helps lead you to a portfolio that makes sense for who you are today, and where you want to go tomorrow.
Review your portfolio
Our next step is a thorough evaluation of your investments. If your portfolio is not monitored and updated periodically, strong stock gains, combined with slow growth in bonds, can distort your mix of investments. A portfolio of 70% stocks/30% bonds might now be closer to 75%/25% or even 80%/20%. Rebalancing your portfolio not only aligns your investments with your financial plan, it serves to capture gains from what has been outperforming.
Look below the surface
Broad categories like stocks and bonds don't tell the whole story. For example, we see that while overall stock market averages have generally done well, recent performance has largely been driven by large growth and technology companies such as Apple, Microsoft, Tesla, and Alphabet (parent company of Google). As a result, broad measures of the stock market now include more of these holdings than several years ago. If this is more risk than you intend to take, we can consider options like adding smaller and value-oriented companies to your investment mix.
Another area we examine is your mix of investments around the globe. Much of the recent worldwide growth in stocks has occurred in the United States. As a result, your portfolio may now hold significantly more U.S. stocks versus those located in developed or emerging foreign countries.
Make wise changes
While no one likes losing money, no one likes missing out on gains either. A lesson I've learned over the years is that just because an investment appears overvalued and ready for a fall doesn't mean it can't keep going up more for months or even years. As such, consider a process for making changes over time, or changes that are triggered by market movements up or down. Following trading rules or automating the process can help keep emotions and impulsive decisions from hurting your performance.
Finally, we make sure any changes are done efficiently. Selling investments can trigger capital gains and other taxes that can cost you money unnecessarily. We consider your overall income and investment mix across all your accounts and recommend changes that avoid potentially nasty surprises come tax time.
Key takeaways
Stocks have seen very strong performance, and no one knows for sure if it will continue. But before you react with investment changes, you first should revisit your overall financial plan. Circumstances change over time, and the objective is to align your current goals with the amount of risk you're willing to take at this stage in your life. The next step is to consider rebalancing the investment mix of your portfolio, and that goes beyond just your broad mix of stocks and bonds. And finally, make tax-wise portfolio changes using a process that minimizes impulsive decision-making.
Tim Drake helps individuals and families build and align their finances for living a fulfilled life. Working with integrity and mutual respect, his comprehensive process includes investments, debt and cash flow management, insurance, and tax, retirement, and estate strategies. He is a Senior Financial Advisor at Pegasus Financial Planning, a fiduciary, fee-based Registered Investment Advisor (RIA).